Fish Mounts by Reimond Grignon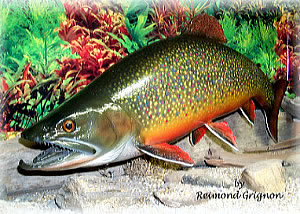 This beautiful brook trout came from the Broad Back River in Canada. For a number of years Mr. Grignon used to mount the majority of the fish that were caught at the Broad Back River Fishing Camps. This fish weighted seven and one half pounds and was caught on a fly. Fly fishing is all that is allowed there.
There are also many wonderful Brook Trout caught in Maine each year. Maine is one of the handful of states that has ponds and lakes with water that is clear, and cold enough to harbor these fish.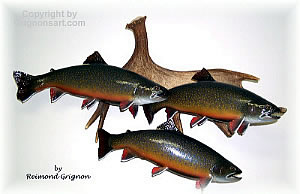 Mr. Grignon's fish have won numerous awards in competitions. His fish look absolutely life like in appearance. His fish do not have that "painted" look. He uses special paints that he mixes himself and "burns" each color into the next color. This little known technique produces an extremely life like fish.
His fish have become real collector's items as he has time to do only a few each year. He has mounted fish for people from all over the world.
One of the favorite passions of almost every fisherman in Maine is catching Brook Trout It is the hope and dream of everyone to catch that "big" bookie. Is almost an impossibility to catch one that weights five pounds or more in this day and age. But it is done many times each year by a few lucky fisherman. There are still quite a number of these fish in Maine waters. They just have to be found!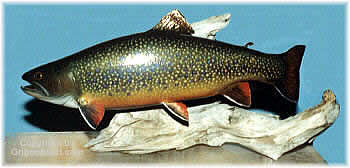 Mr. Grignon mounts many large Brook Trout for people every year. He has become very well known for his masterful talents in painting these fish. He likes to paint his fish so that they look as natural as possible with out giving them a "painted look".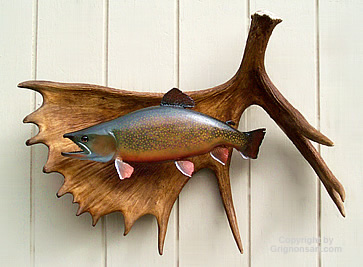 You can see by looking at the picture to the right why so many people want Mr. Reimond Grignon to mount their fish for them. He uses special paints that he mixes himself to paint his fish.
He also does not layer his paints one on top of another as most other taxidermists do. He literal "burns" each color into the next color which creates spots and colors that are amazingly lifelike. This little known technique is very difficult and time consuming! His fish are terrific and are sought out by collectors!
Maine Brook Trout fishing really comes alive as soon as ice out comes in the spring. The fish are then on the surface of the water and it is heaven for fly fisherman. These fish freely rise for flies and are not too fussy about what they take until later in the season. The fish will jump when hooked and many a prize fish has been lost by the surprised fisherman. Some people have had Mr. Grignon mount their fish is just this pose. That is, the one that didn't get away!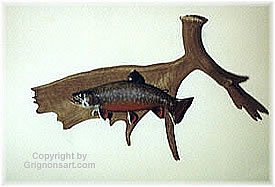 It has become very common in Maine for people to collect moose antlers that have dropped during the winter. These antlers are most usually found in the spring of the year as the snow melts. There are people who spend lots of time looking for these antlers. Many a fisherman has had Mr. Grignon mount their trophy Brook Trout on on a moose antler. He has done many like the one pictured here, both single and double fish.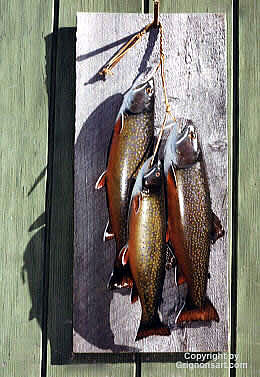 Mr. Reimond Grignon mounted this beautiful stringer mount for a customer. Brook Trout are among the most sought after game fish in Maine. They are considered the most beautiful fish.
Brookie's as they are called, freely rise to dry flies and fly fishing is the preferred way to fish for these fish. They are found in many lakes, ponds, rivers and streams Maine.
The average Brook Trout in Maine weighs around a pound and will measure twelve inches long. There are many two pound and larger fish. It is not uncommon to catch a four pound Brook Trout in Maine today. The five pound plus fish comes much harder but is frequently done. Any Brook Trout over four pounds is a trophy fish. Mr. Grignon has mounted many Brook Trout from Maine that weighted five, six, and even seven pound fish.
Big Lake Trout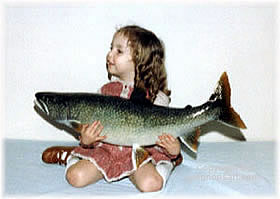 Lake Trout are a very common cold water fish found in many lakes and rivers in Maine. These fish can become very large. Mr. Grignon has mounted many of these fish which weighted more than 25 pounds. It takes a lot of time and skill to repaint Lake Trout There are over two thousand different spots of color applied. These fish are often caught through the ice in the winter. The young lady here is one of Mr. Grignon's daughters, Amanda.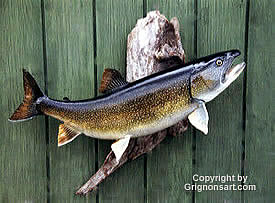 Lake Trout tend to be a deep water fish, hugging the bottoms of the lakes during the summer when the water surface temperature rises. It is standard practice to troll for these fish using many "colors" of weighted line. Many a fine day has been spent in a boat slowly trolling among the islands and bays of lakes waiting for that monster Laker to hit. Mr. Grignon used to guide people on north Maine lakes in pursuit of these fish.
Salmon mounts by Reimond Grignon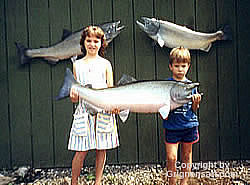 Fish have been sent to our shop for mounting from all over the United States. These large King Salmon were caught in Alaska and air freighted to Maine. The Salmon the kids are holding weighted over fifty pounds when caught. It takes special skill and preparation to mount and paint such large fish.
The Salmon on the back wall were done for a museum in New York. Many other King Salmon are caught in the great lakes and sent here for mounting. It may be hard to believe, but many of these large fish are caught on fly rods, using tiny flies. It takes special skill to accomplish this feat. Most of the Great Lakes fish are caught trolling in about seventy five feet of water.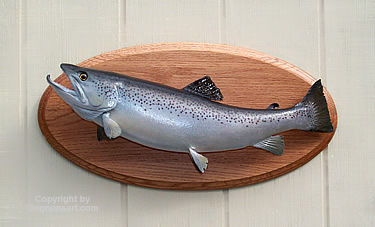 This wonderful Salmon came from a lake in the Maine wilderness. There are many, many lakes in Maine that have very nice Landlocked Salmon fishing. Many people figure that since the best fish are brought to Mr. Grignon for mounting, he should know where the best fish are. He gets calls from people all the time asking him where to go to catch a trophy fish in Maine. Mr. Grignon always tells them the truth, "You catch them in the Water". That is always his answer, he never tells people a specific place. The truth of the matter is that there are many, many great places to go in Maine, many of which hold very large fish.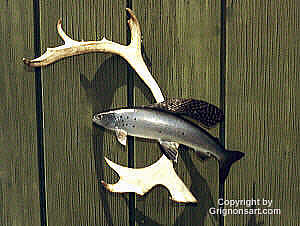 This Grayling was also caught in Alaska. These fish are very common and sometimes it seems they almost completely fill the rivers and streams.
There are times when the dorsal fins break the surface of the river water and it seems the whole river is just one large school of fish. Their large dorsal fins are quite colorful. These fish are usually not too big.
They can be caught with a fly rod making them a very sought after. This one weighted about four pounds and is mounted on a piece of Caribou Antler.
Big Bass Mounts by Reimond Grignon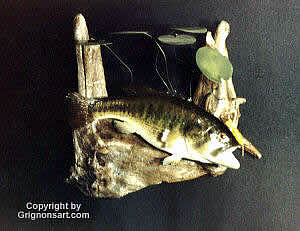 Bass fishing is becoming more and more popular in Maine. For years not many people noticed the great bass fishing this state has due the strong influence of the cold water species such as Lake Trout and Brook Trout.
For a long time many people in Maine considered these fish a trash fish and threw them away. Today, more and more people are taking notice of these great game fish.
There is fantastic Bass fishing in many lakes, ponds and rivers all over Maine. It is common to catch lots of four and five pound Bass in Maine waters. It is not unusual for someone who goes after these fish regularly to catch and release many five to eight pound fish during the season. These fish are wonderful fighters and will jump and leap all over the place trying to get away.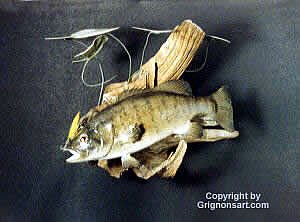 It is heaven on earth to spend a day fishing and catching both the Largemouth and Small Mouth bass on a fly rod. They can make the water explode when a fly or small fly rod bug is cast on top of the water just beneath the bass.
Fly fishing is becoming more and more popular with Maine fisherman. The above specimen is a Largemouth Bass the fish on the left is a Small Mouth Bass.