What To Do With That Deer You Just Shot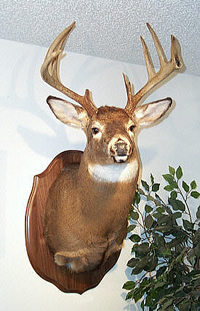 Hello, Friends and Customers. Below and on the sides are some pictures of really nice deer and other items mounted by Reimond Grignon. This year you might find yourself with a really nice specimen to bring in. There ARE nice bucks out there! You just got to go hunting to find them and enjoy some days a field in this nice weather we are having.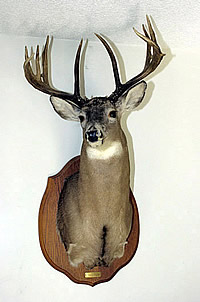 The Indians used to use up every piece of the game that they killed, so this year this page of this newsletter is devoted to showing you how to use up every piece of your deer that you get, whether it be big or small. Don't forget to check out my interesting web site with hundreds of beautiful color pictures of wildlife mounts on it!
Now if your really lucky you may get the chance to bag a super nice buck to have mounted for your wall. These guys just don't come to every hunter every year and it takes lots of patience and experience to get one.
---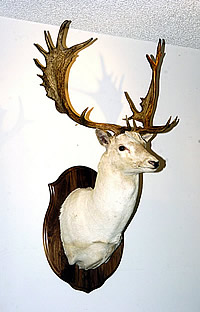 Most big bucks don't come out into fields before it gets good and dark so these are real difficult to bag for field hunters. In fact most of the really big bucks don't enter a field until at least 10 PM at night. That is a little after legal shooting hours though.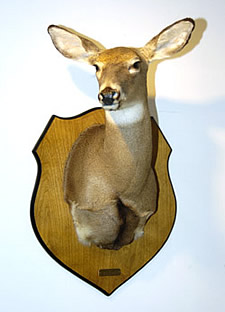 Bucks make mighty impressive mounts! For sheer beauty does make wonderful mounts, they are very graceful and look stunning on any wall.
Do you have one mounted? Like bucks they can be turned either way and panels can be put on any mount or you can leave the panels off for a more rustic look — Your choice.
---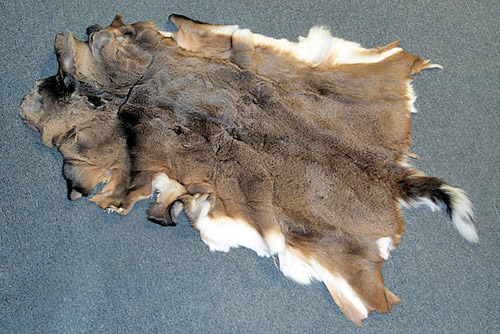 All my tanning is done by the worlds best tannery and the hides come back just beautiful, nice and soft just like cloth and deer hides make the best and longest lasting leather there is. I know a number of people I have done these for 30 years ago and the hides are still great! You are missing a great idea if you don't have one
of these done. They are just beautiful!
Come in and see many samples of tanned hides from bear to deer, raccoon, fox, coyote, beaver even weasel. I have them all right here for you to look at. They are wonderful and done by the worlds best tannery. You won't believe how really nice these are until you see them for yourself.
---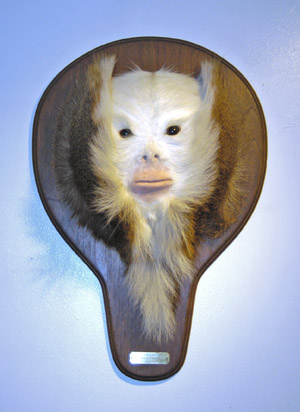 Now these furry beasts seen in this picture are roaming all around the woods of Palmyra, ME which is where I shot this one. Like Martins and Fisher they are making quite a come back in this state. I call the finished product "Mountain Men" because they remind me so much of some of the folk that live here in Maine. In fact I wonder if they are related to a whole bunch of my relatives ? They look quite similar! Mounted up you couldn't tell em apart!
These guys are quite the attraction to just about everyone that comes into the shop. You couldn't ask for a better conversation piece. You can just keep talking to them all day long and they won't give you a dumb answer ever. Usually not any answer at all…. Almost all of my mounts are like that…. So sweet….... Wish my……... Was like that…...oh well.
These guys need special skinning instructions so call for details and don't gut out your deer too far back……....if you know what I mean…..
---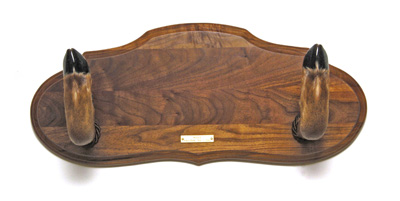 Then I have these really great gun racks that I make. Both 2 foot gun racks and 4 foot gun racks using solid walnut or solid oak panels, wow you just couldn't ask for any thing nicer.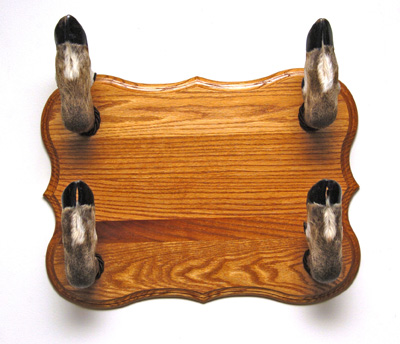 Not only that, I believe in doing things the right way. All the feet are nicely "tanned" before mounting.
---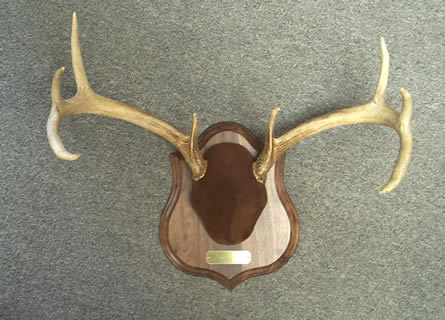 Don't forget to have those extra deer antlers mounted on a nice panel. These look great and last forever unlike a carton of cigarettes which last two days in a deer blind.
Some hunters dip their cigarettes in deer urine to create the perfect scent trail…...Glad I don't smoke….. …..(PS...I kid you not)
The way I do antler mounts is the good hard old fashioned way. I don't use those kits which don't work good. The way I do antler mounts is to build up the skull plates with mache and then cover the skull with a really nice piece of tanned buck skin. They look really great and last forever. It is easy to see and feel the differance between my mount and the cheap kits.
---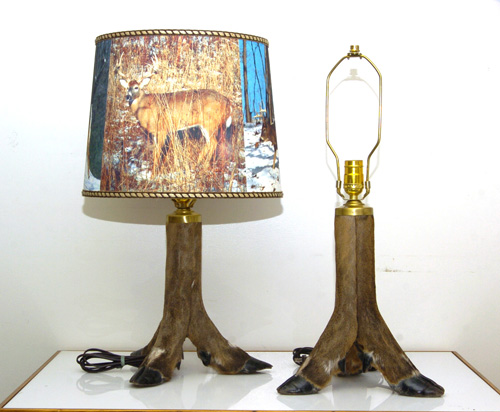 Or how about a perfect deer foot lamp to sit on your den of office desk.
That is, if you can keep it away from your wife. The ladies really like these lamps. You owe it to her to have one or two made for her and then she won't complain about you mounting other stuff like deer heads, ducks, animals,…...You know all those other little critters you bring home…...
These are really nice and can be had in three foot or 4 foot styles. Notice in the picture how you need to keep the feet cut long…. You don't want to cut the feet off short when you butcher that deer. The lamps can be had with or without the deer scene shade. These are a really, really nice item!
---