Other Taxidermy Mounts For Sale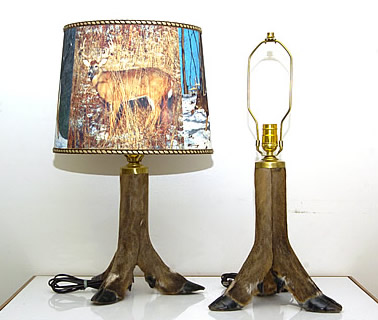 Deer Foot Lamps
Beautiful Deer Foot lamps. These are nicely done with tanned feet, complete wiring and ready to be plugged in.
---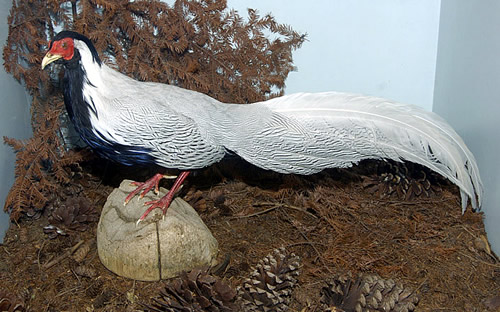 Silver Pheasant
A hard to find bird for mounting. These birds are raised for their feathers which are cropped a few at a time so as not to harm the birds. The feathers are used for tying flies amoung other things. These birds can be worth hundreds of dollars for birds that give feathers that have the perfect hackle in them. Some birds sell in the thousands. Mounted on a nice table top vase not shown here.
USA orders only.
Item # Bird36
$429.00
---

World Taxidermy Compititon Winner - Fighting Pheasants
Feathers flying these birds fight until one gives up or dies! This beautiful mount was done by using the actural two fighting birds, missing feathers and all to make it more realistic. A wonderful mount, mounted on a beautiful old burl.
USA orders only
Item # Bird46
$1249.00
---
Coyote Rug
This is a really nice coyote rug. Hand picked by me out of dozens. This coyote was taken during a cold Maine winter and has really nice fur coat - not to be confused with most other coyote rugs. The rug is lined with tan and brown felt and has a backing on the back. All of which is expertly sewn on by a professioal. This rug also has rings and it completely ready to hang on the wall. This is a really, really nice coyote rug.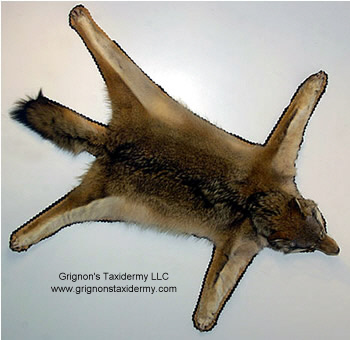 USA orders only - Price includes shipping
Item # coyote rug110
$949.00 SOLD