Fighting Pheasants mounted by Reimond Grignon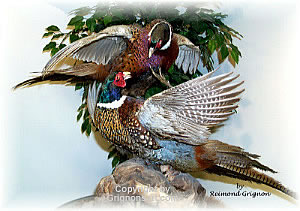 These beautiful, Blue Ribbon award winning mounts, Fighting Pheasants are just two of the many birds that are on display. These upland game birds are among the most beautiful birds in the world. During mating season, birds become very aggressive and will attack each other furiously. Sometimes to the death!
First place winner in the Masters Division of a National Bird Taxidermy Competition.